Do I need a HDMI Switcher or a HDMI Splitter?
Author: Aus Electronics Direct Date Posted:7 August 2019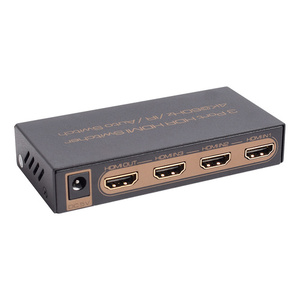 HDMI Switch or HDMI Splitter?
Do I need a HDMI Switch or a HDMI Splitter?
It is very easy to get confused whether you require a HDMI Splitter or a HDMI Switcher. We often come across customers purchase the wrong device for their required application.
On that note, we have decided to create a quick guide to ensure that you are buying the correct HDMI device for your requirements. Firstly, lets explain what each are and what they do.
HDMI Splitter
As the name suggests, a HDMI splitter is a device that takes a single HDMI signal and splits it to multiple outputs for connection to a display (TV's and Monitors).

Above is a diagram showing how a HDMI Splitter used. In this instance, a 4 Way HDMI Splitter is connected to a DVD or Blu-ray Player which is then split into 4 ways to connect to 4 TV or Monitors. This is a great device to use to avoid having to pay for multiple Set Top Boxes such as Foxtel iQ3 or iQ4 for other rooms around the house.
In most occasions, other TV's or displays may be far away from the HDMI source, it may be advisable to utilise active HDMI cables, HDMI Extenders or wireless HDMI AV senders to be able to connect other TV's or Displays to your HDMI Splitter.
HDMI Switcher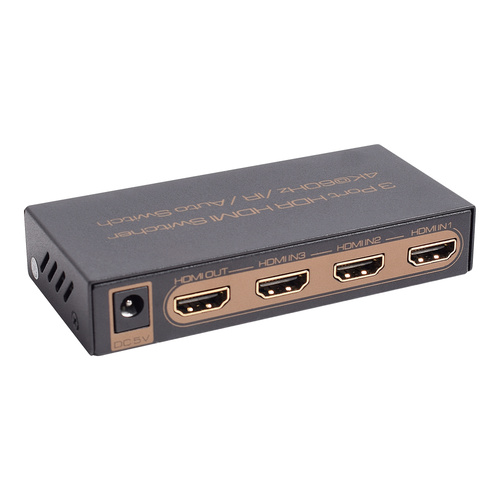 A HDMI switch is essentially the opposite. It is a device that will come in handy if you have a display (TV or Monitor) with only one HDMI input and you have multiple HDMI devices that you wish to connect to it.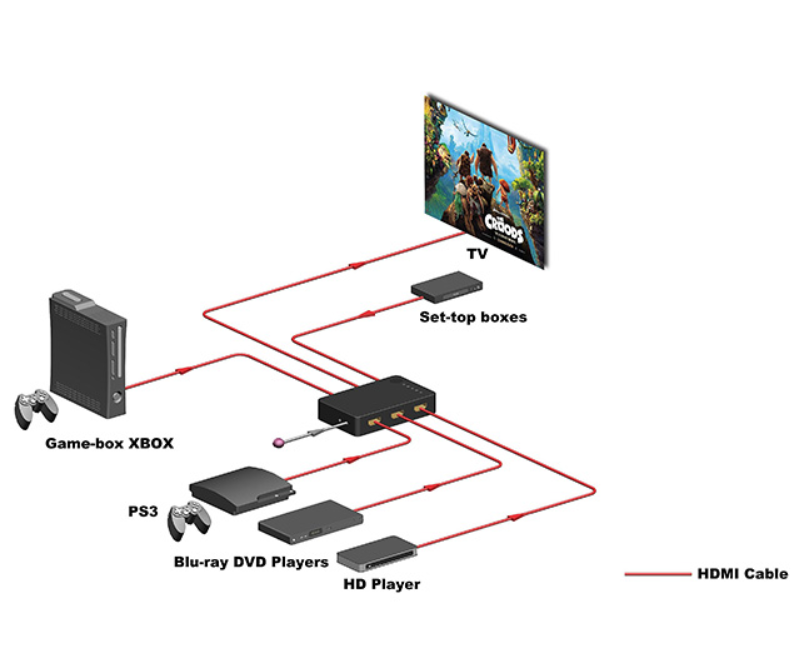 Above is a diagram showing multiple HDMI inputs; Gaming Consoles (PS4 or Xbox), Set Top Boxes (Foxtel iQ3 and iQ4), DVD or Blu-ray Players connected to a 5 Port HDMI Switcher which then connects to the TV's or Monitors single HDMI input.
---
Comments (5)
3 Monitors - Extension

Hi, I want to add a 3rd monitor to my workstation, I have the second screen setup easily, but require a 3rd at this stage and maybe more down the track. All I want is to extend out to a 3rd screen overall - my all in one computer only had 1 hdmi output that my 2nd screen is currently connected to. Can you point me in the right direction.
---
NewLine RS + interactive TV display

3 November 2022

which device would I need if I have an interactive tv with a HDMI and USB cables to connect them to a splitter to then connect the splitter to 4 laptops.
---
HDMI Switcher

By:

Campbell

on 28 May 2022

A switch is a device that allows you to connect multiple devices to a single output. A splitter is a device that splits the input signal into two or more outputs. HDMI switches are designed to work with HDMI sources only. They can't handle any other type of video signal (such as VGA). If you want to use your TV as a monitor for your computer, then you should use a splitter instead of a switch. Today I was searching some blogs on Google related to tech and when I clicked on some website and read their blog, I did not like it and was not very relevant then I came to your site and read your blog, I felt very much. liked it
---
Request for Info

20 January 2020

Hi there. I have a Foxtel IQ4 from which the HDMI feeds into a two output 4K HDR HDMI Splitter 1x2 (same as the one at the top of the page and purchased from your good selves) . I take one output to an 2019 LG OLED 55" TV and that works fine. The second output goes via an HMDI/Fibre optic cable to a 2019 42" TV but I cannot get a picture. When I connect the HDMI cable to an input port on the TV, I get the message that "HDMI port x is available" but no picture results. I have tried resetting that TV to factory defaults and changing the picture attributes with no success. Even plugging that HDMI cable (which I know is working via testing) directly to the Foxtel IQ produces no picture. Any assistance would be appreciated Regards, Wayne O
---
HDMI/HDCP

By:

Garry Hugo

on 1 September 2019

Hello, My Foxtel IQ2 box recently failed and Foxtel replaced it with an IQ3. I work at a fly-in/fly-out mine overseas and like to record programs on DVDs to watch whilst overseas. I used a Panasonic DVD Recorder connected to the IQ2 to record my programs The new IQ3 doesn't have connections to set up the DVD Recorder. Would a HDMI Splitter (1 output to TV, the other via a HDMI to VGA converter) to the Recorder work?
---
Leave a comment